Frequently Asked Questions
If you have a question that is not addressed here, please contact me.
I am most happy to help anywhere I can!
FREQUENTLY ASKED QUESTIONS
When should I book my newborn session?
---
Most families secure their spots when they are in their second trimester. Newborn bookings are limited to 2 per week so that I can give the best attention to both photographing and editing your session. Sessions are generally booked for around 1-2 weeks after your due date. There are no age limits for coming into the studio for your newborn session, so long as you are booked in you can come when you are ready.
---
Are family and siblings included in newborn sessions?
---
Yes! All my sessions include family portraits unless otherwise requested. Newborn sessions start with family photos, then sibling photos, then finish with your newborn sleeping peacefully on the beanbag.
---
Are there payment plans available?
---
Yes. Some families like to pre-pay their package in the weeks or months before their photoshoot. I also offer 3-6 month interest free payment plans through PayRight.
---
Do you charge session fees?
---
To give you the most flexibility and control of your order, a $200 session fee covers the time required for your photoshoot (up to 1.5 hours for family and up to 3 hours for newborn sessions) and includes a 5x7 inch fine art print valued at $150. Product and digital file orders are seperate to the session fee and your final order is not required until after you have enjoyed your photoshoot, seen your photos, held the products for your self and are excited to put it all together.
---
Have you had your whooping cough vaccination?
---
Yes I certainly have! My last booster was in 2016.
---
How long will the photoshoot take?
---
Family sessions run around 60-90 minutes. Maternity sessions rund around 45-60 minutes. Newborn sessions usually run around 3 hours to accomodate feeding and settling of the baby. Viewing and ordering appointments are 60 minutes long
---
Have I seen you somewhere before?
---
Family Photography by Natarsha March is featured on many platforms across the web. You can find my pages in the following locations: facebook www.facebook.com/familyphotographybynatarshamarch ​ instagram www.instagram.com/familyphotographynatarshamarch ​ AIPP http://www.aipp.com.au/member/search ​ Google+ https://plus.google.com/u/1/b/102455757960901578201/102455757960901578201?_ga=1.117039238.1489594990.1465975992
---
Can we keep our photos private?
---
Yes. As a business that trades in visual imagery, sharing my most recent work is very important in terms of showing potential clients what I can do. Some familes prefer to keep their images private and depending on the reason for that I can either omit names from posts, share non identifying images or none at all. We amend the contract and I mark your file as private so that the images are never shared outside of your family.
---
How do I install the mobile app?
---
Simple! Just follow the directions here: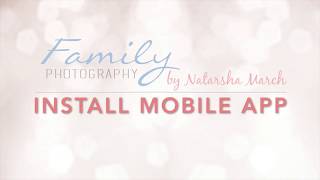 ---
What are your cleaning procedures at the studio?
---
A healthy and sanitised studio is high priority. Hand sanitiser, tissues and antibacterial sprays are all on hand at every session. At newborn photoshots, all blankets and wraps that babies touch are hot washed after every newborn session, the floor is hot mopped and hard props cleaned with Glen 20 spray. A full rundown on the stringent processes is outlined in this blog post.
---
Do we have to come back to view our photos in person?
---
As a full service photographer, a standard inclusion is guidance through the selection and design process. This is best done in person at the studio where you can look over the products again for yourself. At family sessoins, this is done right after the photoshoot at the same appointment. For newborn sessions the viewing is one week later. If circumstances mean returning is too hard to schedule, we can book a video call and I can guide you through your photos and design your products over a video chat.
---
---